At Affinity, our mission is to Build Better Lives for our members and communities. Building Better Holidays was created with our mission statement in mind, supporting local organizations that are helping to Build Better Lives as well.
Our goal is to spread holiday cheer by giving local charities in need a little extra sparkle this holiday season.
This year, we asked you, our members to select 4 local charities to receive $3,000 each. That's $12,000 in donations.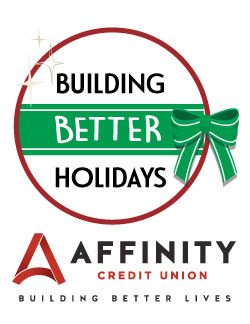 Thank you to everyone who voted to help these wonderful charities.
Click below to learn more about each one.
Orchard Place is the oldest locally-based charity in Des Moines. They provide mental health treatment and expertise for children in Iowa. In the past year, Orchard Place served more than 7,500 children and adolescents through its inpatient, outpatient and community-based programs. The age range they serve varies by program and spans from birth through 21 years old.
Orchard Place's mission is developing strong futures.
Cradling New Life helps families who have infants in Iowa hospital NICUs and those addressing antepartum issues. Assistance is provided financially and by raising awareness. Babies are admitted to NICUs due to premature birth, complications arising during delivery, or signs of ill health which occur within the first few days of life. One of every nine expectant mothers do not carry their babies to full term. Nearly 450,000 infants in the United States are admitted to a NICU annually. In Iowa, approximately 11.3% of babies born are premature.
Cradling New Life Mission is to address the needs of families enduring the struggles of pre-term labor, premature birth, or other ill little ones in Iowa hospitals Neonatal Intensive Care Units by raising awareness and establishing a unified footprint toward their needs.
ChildServe improves the health and well-being of nearly 5,200 children each year through specialized clinical, home, and community-based programs and services. They are experts in pediatric rehabilitation and care for children and young adults who have a wide variety of developmental delays, disabilities, injuries, and other special healthcare needs.
ChildServe offers specialty services, uniquely equipped facilities, and state-of-the-art technology. Their mission is simple: They partner with families to help children with special healthcare needs live a great life. The children and young adults they serve inspires them to provide possibilities and improve quality of life in a caring environment.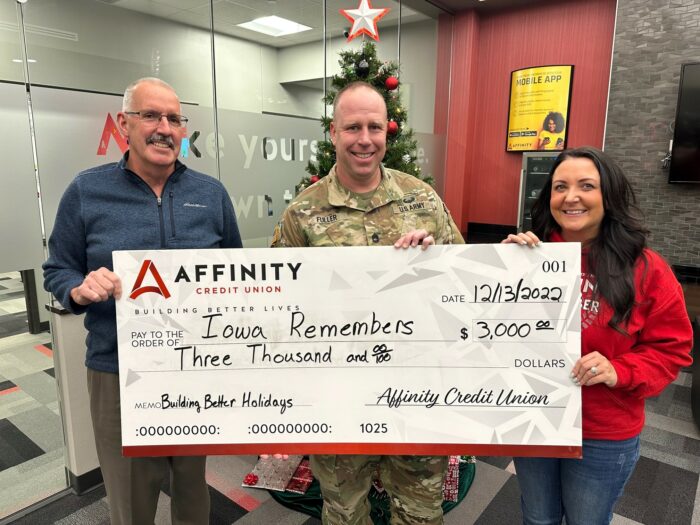 Iowa Remembers is a non-profit charity run solely by volunteers. Founded in 2010 their primary objective is remembering and honoring Iowa's military casualties of war from Operation Iraqi Freedom, Operation Enduring Freedom and Operation New Dawn.
Iowa Remembers mission is to remember and honor the Iowan military casualties of war from Operation Iraqi Freedom, Operation Enduring Freedom and Operation New Dawn. Their sacrifice, and that of all the others who have died, will never be forgotten.
Additionally, they use their resources to advocate for action and awareness of issues surrounding Iowa's military personnel.
Listen as Affinity's CEO, Jim Dean shares how our Building Better Holidays campaign initiative started and why it's so important.
Since its creation in 2018, Affinity has donated nearly $70,000 to local charitable organizations as part of our Building Better Holidays campaign.