Skip A Payment,
Keep the cash.
We understand how expensive life can be. Whether you're saving for gifts or playing catch up on bills, Skip A Payment can help you get where you need to be.
For just $25 per loan, you can skip your next qualifying loan payment.
skip 1 payment
Skip 1 month's payment per eligible loan during a 12 month period.
member eiligibility
Loan(s) must be current and account in good standing.
consecutive payments
3 consecutive payments must be made on loan prior to skip.
Skip A Payment Online
The easiest and most convenient way to skip your next loan payment is through Online Banking.
Simply follow these easy steps: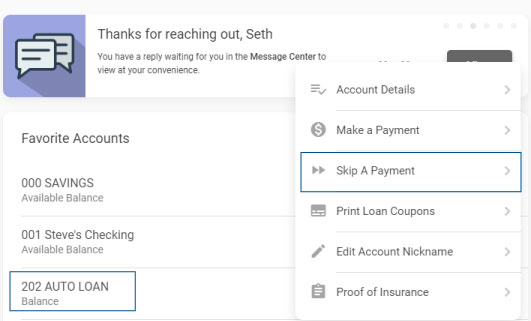 Skip A Payment at an Affinity Branch
---
*$25 fee per skipped loan. Does not apply to first mortgages, home equity loans, personal lines of credit and credit cards. Loans 10 or more days past the payment grace period are not eligible. Only one monthly payment can be skipped during a 12 month period with three consecutive payments made. Interest will continue to accrue at the contract rate including the skipped month. This payment deferral will result in an extension of the maturity date and may increase the Annual Percentage Rate and finance charges disclosed on the original promissory note. This modification could affect loan insurance programs, including GAP insurance.