NEW CREDIT CARDS ARE HERE!
New Affinity credit cards were mailed to membership to be activated on Friday, October 23rd. If you have a credit card with Affinity, and did not receive the new white card, please contact us.
Electronic payments for these new credit cards will be made through online banking. Simply select your credit card and click the green PAY NOW button.
This process has replaced using the site mycardinfo.com, which has been deactivated for Affinity credit cards.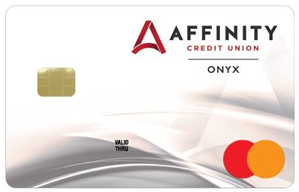 The new credit card will have a different card number and expiration date, so make sure to update any automatic payments associated with your Affinity credit card.
Moving forward, all cards will have a payment due date of the 28th of the month. Additional detailed info regarding payments will be included on credit card statements.
The new Affinity credit card will be fully compatible with online banking. View balances, card info and make payments all from the Affinity online banking platform!
Onyx & Platinum MasterCard®
High interest credit card debt is a hole that's very difficult to get out of. Transfer that debt to an Affinity credit card, with a low fixed rate and NO balance transfer fees.
Incredible rates – 7.75% APR fixed (Onyx) & 11.9% APR fixed (Platinum)
No Balance Transfer Fee
No Annual Fee
Receive text or email alerts to help track your purchases and protect yourself from fraud. Activate through the MANGE MY CARDS feature under the MORE tab of the Affinity mobile app.


MasterCard's Zero Liability
If your MasterCard is lost or stolen, contact Card Services at 1-800-343-1028. With MasterCard's Zero Liability policy, you are protected from all unauthorized transactions on your card. For more information MasterCard's Zero Liability policy click here.
If you
Potential Fraud
If you suspect that fraudulent charges have been made with your credit card, please call 1-800-808-6402.
Affinity Credit Union Account Agreements
To request a copy of your existing account agreement, please call 1-800-343-1028.
Click here to view the cardholder agreement.