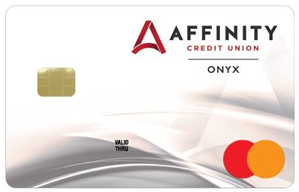 Onyx & Platinum MasterCard®
High interest credit card debt is a hole that's very difficult to get out of. Transfer that debt to an Affinity credit card, with a low fixed rate and NO balance transfer fees.
Incredible rates – 7.75% APR fixed (Onyx) & 11.9% APR fixed (Platinum)
No Balance Transfer Fee
No Annual Fee
Receive text or email alerts to help track your purchases and protect yourself from fraud. Activate through the MORE tab of the Affinity mobile app.


---
Traveling? Let us know!
To help protect you from fraud, security measures may be taken when a potentially suspicious transaction occurs outside of your area.
If you plan to travel out of state, please use this online form to let us know.
Lost or stolen credit card?
Click here to request a replacement card.
---
MasterCard's Zero Liability
If your MasterCard is lost or stolen, contact Card Services at 1-800-343-1028. With MasterCard's Zero Liability policy, you are protected from all unauthorized transactions on your card. For more information MasterCard's Zero Liability policy click here.
Potential Fraud
If you suspect that fraudulent charges have been made with your credit card, please call 1-800-808-6402.
Affinity Credit Union Account Agreements
To request a copy of your existing account agreement, please call 1-800-343-1028.
Click here to view the cardholder agreement.