MEET YOUR NEW FAVORITE CREDIT CARD
Affinity's Platinum credit card features the lowest fixed rates around with no balance transfer fee and no annual fee – Yup, you read that right! After all, you deserve the best of the best.
Here's How Our Card Stacks Up
Incredible Low Rate – 11.9% APR fixed
No Balance Transfer Fee
No Annual Fee
Apple & Samsung Pay Compatible
Security Alerts – Text & email alerts to help track your purchases and protect yourself from fraud. Activate through the MORE tab via Affinity's mobile app.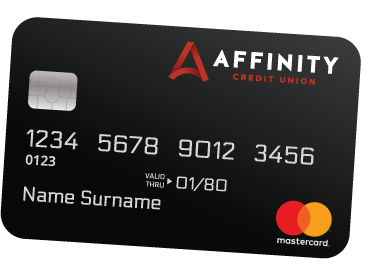 Important Phone Numbers
Card Activation – 877-205-0915
Lost or Stolen – 833-933-1681
Fraud Detection & Transaction Disputes – 866-279-1399
MasterCard's Zero Liability Policy
MasterCard's Zero Liability policy protects you from unauthorized transactions on your card. For more information, click here.

Affinity Credit Union Agreements
To request a copy of your existing account agreement, please call 800-343-1028.
To view the cardholder agreement, click here.