We're proud to be one of the only financial institutions in Iowa to reduce standard debit card overdraft fees to $15, as well as completely eliminating overdraft fees for debit card transactions of $5.00 or less.
In comparison, the average overdraft fee in the U.S. has hit a record high of $33.58.
By reducing fees, we are putting more money in the pockets of our members, helping them take care of their families and build wealth for the future. It's what Building Better Lives is all about.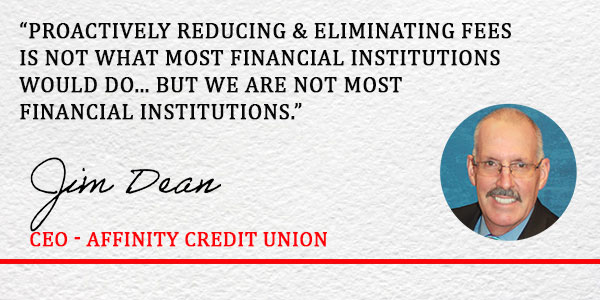 ---
OVERDRAFT SERVICES/PROTECTION FAQ
Overdraft Protection
You can link your savings account to your checking account. In the case of a checking overdraft, any available savings funds will be used to cover your transactions at no charge.
In the event that funds are exhausted from both your checking and your linked savings account, we will pay overdraft transactions up to a certain limit for a fee.
Debit Card Overdraft Protection covers overdrafts for debit card usage up to a certain limit for a fee if you don't have available funds in your checking account and your linked savings account.
| | | | | |
| --- | --- | --- | --- | --- |
| Account Type | Overdraft Protection Limit | ACH/Check Fee | NSF Fee | Debit Card Fee* |
| eGreen Rewards | $1500 | $25 | $25 | $15 |
| Classic | $750 | $25 | $25 | $15 |
| New Beginning | $0 | $25 | $25 | $15 |
*Overdraft fees will not be charged on individual debit card transactions of $5.00 or less.
Overdraft fees will not be charged individual debit card transactions of $5.00 or less.
A fee will not be charged if your checking account is linked to a savings with available funds to cover your transaction.
There is no fee for transferring funds within Online Banking or by calling our automated voice response system, 1-833-242-3364.
For Overdraft Protection:
Checks and other transactions made using your checking account number
ACH – automatic payment transactions
For Debit Card Overdraft Protection:
ATM transactions
Everyday debit card transactions
Please note: Affinity Credit Union will not allow you to overdraw for ATM or debit card transactions unless you have enrolled in Debit Card Overdraft Protection. Overdrafts are paid at our discretion, which means we do not guarantee authorization and payment of any type of transaction. If we do not authorize and pay an overdraft, your transaction will be declined.
Enroll by logging into your online banking and selecting the "Overdraft Services" option under the Member Services tab.
Click here to download the Overdraft Protection Form
Contact us at 1-800-343-1028
If you don't consent to Debit Card Overdraft Protection, overdraft coverage for your everyday debit card transactions or ATM withdrawals will not be provided. If there are insufficient funds in your account, your attempted debit card transactions will be declined.
Your checking account has two kinds of balances: the "actual" balance and the "available" balance. Affinity uses the available balance to determine if a transaction will cause your account to overdraw, and for assessing overdraft fees.
Actual Balance Your actual is the amount of funds in your account at any given time. The actual balance reflects transactions that have been "posted" to your account. However, it does not include transactions that have been authorized and are pending. While it may seem the actual balance is the most up-to-date display of the funds that you can spend from your account, this is not always the case. Your account may have purchases, holds, fees, other charges, or deposits made on your account that have not been posted and, therefore, will not appear in your actual balance.
Available Balance is the amount of funds in your account available to you without incurring an overdraft fee. Your available balance takes into account transactions on hold for deposits and withdrawals (such as pending debit card transactions) that have been authorized but have not yet been posted to your account.
In most instances, if an item is presented for payment, or you authorize payment from your account and the available balance is insufficient to pay it, Affinity will consider paying the item as long as it does not result in a negative balance in your account (exclusive of fees), greater than your limit. If paying any item will cause you to exceed your limit, the item will be returned unpaid or the debit card authorization will be denied.
Yes, your account may be charged an overdraft fee for a check or ACH transaction when Affinity returns or rejects a transaction submitted against your account that would exceed your available balance. Please note, authorized transactions (for example, a check or an ACH debit) may be submitted multiple times and you could be charged multiple overdraft fees if Affinity returns or rejects the transaction multiple times. Affinity does not determine whether or when an item transaction is submitted for payment. Rather, Affinity determines whether or not the available balance is sufficient to pay a submitted item or transaction.